Assalamualaikum,
HALO LINGGAU, TANDAI TANGGAL INI !! 05 april 2015
Welcome to the Jungle!!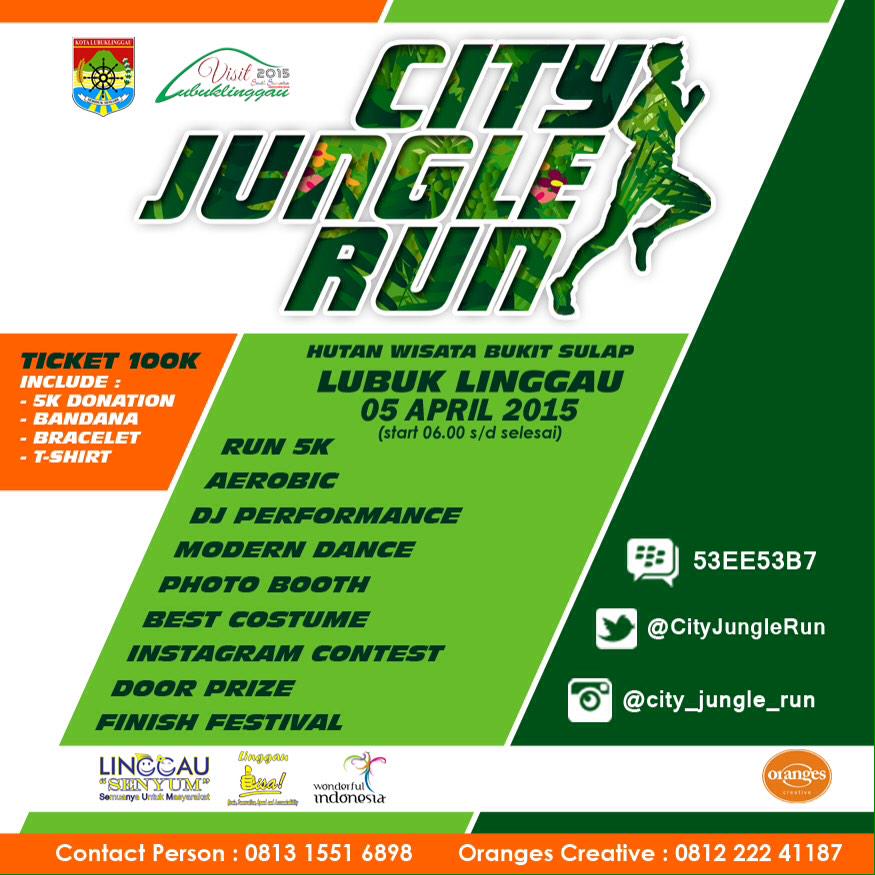 Apa itu CITY JUNGLE RUN ?
CITY JUNGLE RUN merupakan ajang lari di hutan wisata dalam kota. Di acara ini siapapun bisa bergabung tanpa memandang umur dan gender, Entah anda pejalan kaki atau atlit olimpiade. Jalur 5K akan jadi jarak panjang yang anda nikmati lebih dari sekedar lomba lari "CITY JUNGLE RUN" tidak disertai perhitungan waktu, Kalian akan menikmati keindahan alam hutan di dalam kota yang disertai rintangan di tiap kilometernya dan berlanjut sampai garis finish dengan "FINISH FESTIVAL" meriah. melibatkan bnyak warna yang tak terlupakan!
Linggau !!! tiket CJR bisa segera kalian dapatkan di "TROTOAR steak&sisha" dan "Pondok Steak" , dan untuk yang di Palembang kalian bisa mendapatkannya di Eat Cafe 'n Resto Jl. Hangtuah No. 4 Palembang
For more information!!
Cp : telp 081315516896/081222241187/087897010282
Pin BB - 53EE53B7
Instagram -
@city_jungle_run
#CityJungleRUN2015 #SayangiAlamMu #LubukLinggau #VisitLinggau2015 #LinggauBisa #BUKITSULAP #southsumatra #wonderfulINDONESIA
don't miss it runners
save u'r date!!!
Wassalam
with love,
nuning abe